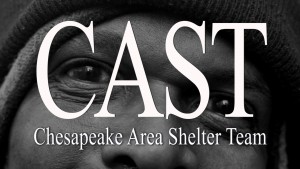 Chesapeake Area Shelter Team (CAST) is the community of faith providing overnight winter shelter for the homeless in the city of Chesapeake. CAST launched on January 2, 2013.
Each scheduled week of CAST, there is one church location for homeless guests to receive shelter, meals, resources, and fellowship. There is  one intake sites (off-site from church) where guests are cleared for the CAST program then transported by a CAST-arranged bus.
Homeless in their own cars are also welcomed to the intake process and follow the bus to the host church. Police presence ensures a safe environment. Rules include no drinking, no drugs, no sex offenders (database checked), and no smoking (church option).
To get in touch with CAST, call 757.321.9353
---
---