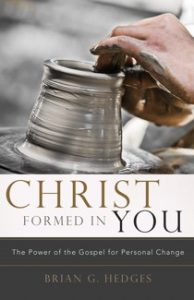 Our Men's Bible Study offers men of all ages a chance to fellowship and grow in the Word of God.
We meet every 1st and 3rd Wednesday at SNCCC at 6:30 PM.  Check upcoming events for the next get together.
Right now we are studying "Christ Formed in You" by Brian Hedges.  This is an excellent book that will help us understand the implications of the gospel in this life as well as the hope it brings for the next.
There are many Christians who make a profession of faith, but live lives that have very little to do with God. They live assuming they have been delivered from the penalty of sin, but don't understand what it means to live free from the power of it. The sad result is a fruitless and anxious life with very little victory and joy. The Lord used this book to help me wrap my own mind around all that God is doing in redemption, as well as motivate me to take my faith seriously in every day life.
My  prayer is that it will do the same for everyone who will study it, as well as help us explain to others the hope that lies within us as we "sanctify Christ as Lord in our hearts." (1 Pet 3:15)
– Pastor Jake